"Stuck in the Onesies is an amazing debut novel–a graceful, bittersweet tale, at once funny, sad, and poignant. I laughed out loud and cried unashamedly."— William Cook, Author of the Driftwood Mystery Series

"Diana's writing transforms the everyday into raw, yet real emotion. Her characters are alive, living between the pages."— Kari Alice, Author of the Blood Sisters Series.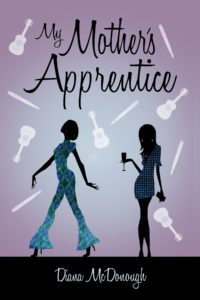 Purchase Here
My Mother's Apprentice, the sequel to Stuck in the Onesies is Diana McDonough's second novel.
My Mother's Apprentice tells the story of the daughters, Karen and Ginger. Their paths might have been trailblazed by their mothers, but, Karen and Ginger find many to blaze on their own. Karen does a good job as her "mother's apprentice," but Ginger, not so much.
Ginger chases her singing career to Jamaica in the midst of the 1970s reggae explosion. Karen, an aspiring author, finds she doesn't need to go any further than her own backyard. Unfortunately, Ginger soon discovers the ghost she fled has followed her to Jamaica. Her past can threaten her present as well as her future.
Karen, travels to Jamaica to write her manuscript and tries to help Ginger reel in the phantom of her past, but will addiction have a stronger hold than their friendship?
"They say 'write what you know,' so I'm living vicariously through my characters by hanging out in Jamaica with them," McDonough said. "Having spent time doing mission work and vacationing there, I hope to give my readers the true experience of living on the best tropical island there is, while its characters deal with real-life issues."
My Mother's Apprentice spans over three decades, a story of friendship, addiction, and learning to navigate the consequences of one's choices.
The series will be a trilogy with the third novel, "Ginger Star," taking the reader to 18th century Jamaica during a time when pirates ruled and women didn't.
"It just shows how people that are polar opposites can still love one another," McDonough said. "It resonates with today's world with how we can all be so different with opposing views, and yet still love each other and take care of each other."
---
Florida Authors and Publishers Association Presidential Award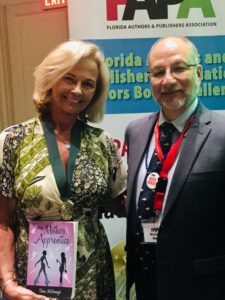 My Mother's Apprentice was awarded the bronze medal for the 2019 Florida Authors and Publishers Association Presidential award. Many thanks for the support of My Mother's Apprentice readers who continue to leave great reviews on Amazon and Goodreads! A special thank you to the My Mother's Apprentice Launch Team who continue to help me get the word out!
---
Dedication
My Mother's Apprentice is dedicated to Betty Bergquist, an original Tensie (Darlene) from Stuck in the Onesies. She's been such an inspiration to me, not only in writing My Mother's Apprentice, but learning how to thrive after losing ones I love and still have a sense of humor. This poem she wrote certainly applies to storing up those memories for when we need them most.