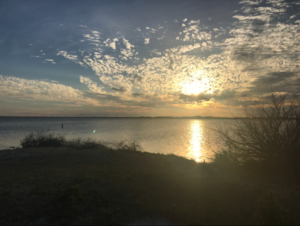 Friday night at Assateague Island is my favorite place to be. The weather was perfect, warm but not humid like we usually have in the summer months. We sat at a table and enjoyed our picnic dinner, watching families having fun on the same beach my kids had played many years before. Before we knew it, we had ring side seats to the most awesome display of beauty. A sunset.
The sun began to set and we were at a place on the island where our view would be panoramic. My companion is a sunset aficionado. Wherever he is, he will seek out the sunset. It's a spiritual experience for him and I'm catching on.
He lives in an area that is prone to fabulous sunsets. Where I live in Ocean Pines, the sun sets behind the pine trees, so not so much. I often text for his sunset prediction and he can usually tell how "off the hook" it will be. Tonight at Assateague, he rated this particular sunset a "10" and the best he'd ever seen. Now that's saying something.
We got in the car and headed out of the park thinking the show was over, but the changing sky drew us in at every turn. We pulled over to join the other cars on the side of the road and shared the next breathtaking view with strangers. Isn't it interesting how beauty will draw people together? It's comforting when God shows up in a sunset, people stop and breathe it in. We snapped pictures of the sunset and each other. Strangers took pictures of us. Then, we just stood and stared in shared silence and wonder.
As we drove away, it occurred to us that because we were rushed, we could have missed the grand finale. I asked myself how often do I hurry on to the next thing only to miss the best part? Not only do I need to slow down and "smell the roses," but to seek the sunsets (better chance of that than a sunrise for this lazy girl, need to work on that…), and anything else life has to offer.
Some days the sunset is clouded and hidden away, but even if it only scores a one out of ten, it's better than anything I could put together. God's always got me beat. And I'm okay with that.